Watch these videos and see why our System X Ceramic Coatings are used on airplanes!
Certified
System X
Installer
Certified Installer of System X Ceramic Coating – Diamond Auto Detailing – 262-325-8962
Welcome to Diamond Auto Detailing! Protect your vehicles against the elements and retain that glossy shine with System X Diamond Ceramic Coating. This excellent high gloss product offers a lifetime of 9H protection.
Coatings made in the USA
System X Diamond provides remarkable advances in auto paint protection. A distinctive, lasting ceramic coating that applies a color-enhancing high gloss while also safeguarding external surfaces. It lasts for the lifespan of new vehicles and as long as eight years on used vehicles. However, System X is also effective for planes, watercraft and RVs too! It is truly an amazing product that we're confident our customers will enjoy.
This excellent product is manufactured by one of the very first labs to utilize innovative coating technologies. Element 119 is a leader in ceramic auto paint protection worldwide. Diamond Auto is proud to be a certified installer!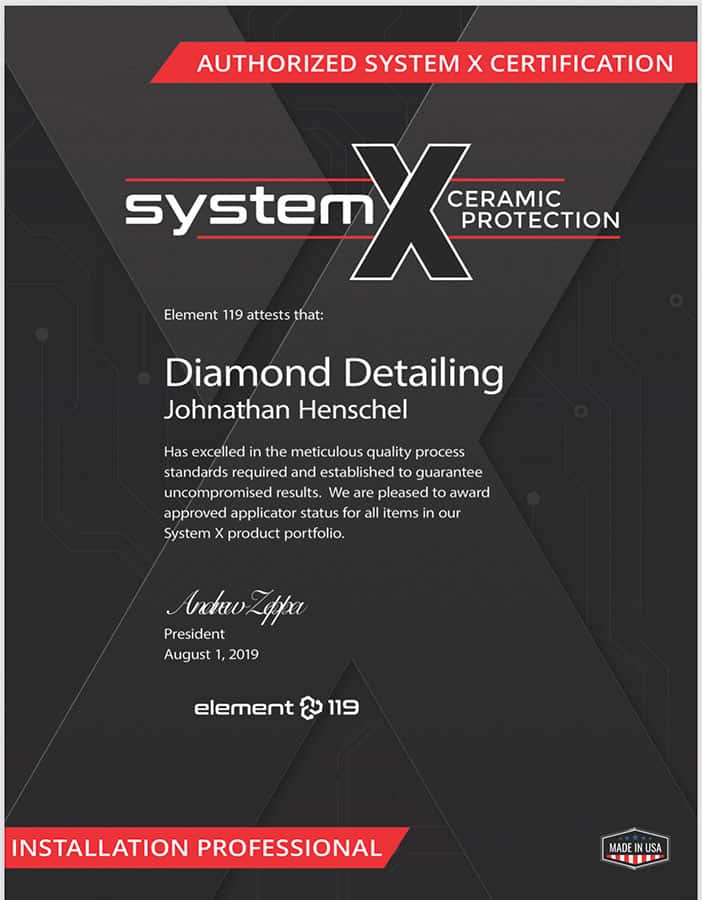 Unlike other products on the marketplace, System X Diamond offers effective paint protection with amazing levels of attractive gloss, chemical resistance and durability. It is designed especially for car owners who want a glossy, rich finish. System X Diamond also is resistant to the elements and provides protection for your car's entire lifespan!
liquid glass Ceramic Protection
Diamond's has a composite structure which presents the best in ceramic protection. Plus, it provides the same appealing, "slick" finish and candy-like gloss as the finest carnauba wax.
System X Diamond simply blankets your car in a glossy coat of ceramic protection that adds to the richness of its color. Black, for instance, appears deeper. Reds pop with brighter reflections. White appears as if it is dipped into glass. Why not schedule a detailing appointment with us and see the results of System X Diamond for yourself? It makes your auto shine brighter than ever! Its self-cleaning properties and water beading capabilities ensure your car looks great!
System X Diamond resists repeated washes without thinning. That means lasting protection against sunlight, rain, ultra violet rays, solvents, bird lime and exhaust fumes.